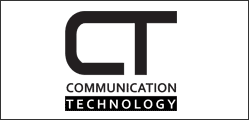 Commercial Sound System Component Developer & Manufacturer
Case Studies
Exeter Airport
High-Tech Audio Aids Staff Efficiency and Reduces Stress at Exeter Airport
East Sussex based Communication Technology reports that its new Pro-Range, Multipoint Multi-zone Public Address product has helped to simplify and improve communication with passengers and staff at Exeter International Airport. This pioneering paging technology allows staff to select specific zones for their announcements and, with the innovative feature of self cancelling Paging Points, staff at the Airport are delighted with their new user friendly sound solution; they don't have to remember to cancel their selected zones once an announcement is complete.
The Installer - PAS Sound and Communications Ltd of Devon - selected the Communication Technology CAT5 cabled 10 zone paging system as it fulfilled the challenging zoning requirements of the busy, growing, Airport. Featuring self-cancelling zone selection, each Paging Point automatically returns to ALL CALL after completion of a zone announcement. Each zone can be programmed to receive background music between paging or for deletion of ALL CALL paging from selected zones. At Exeter International Airport, 8 Paging Points are installed; when the system is in paging use other staff can pre-select their paging zone requirements whilst awaiting clear-down and system access.
Stephan Ayres, Communication Manager of Exeter Airport said:
"The new installation allows the airport's passenger services and security departments to make clear announcements to the travelling public in various airport areas from five locations but as the airport grows the system can be expanded to meet our changing requirements. The equipment has worked very well in a demanding environment and Exeter Airport is thoroughly satisfied with it."
Communication Technology is one of the UK's leading manufacturers of commercial microphones, volume controls and paging products for commercial sound systems.
Sales Office:
The Old Dairy, Straight Half Mile, Maresfield, East Sussex, TN22 2HH, ENGLAND
Trading and Registered Office address.